Live at Hi Fi Opening for Sierra Ferrell Fall 2021 (Backwoods Films)
(Below) The Maybelles at Brooklyn Americana Music Festival in Brooklyn Bridge Park 2021
Listen on Sound Cloud or Listen on BandCamp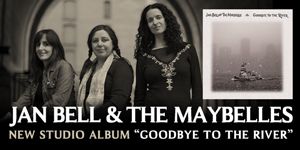 Album Release Show at Barbes, Brooklyn NYC 2019.
From a coal-mining village in Yorkshire England, Jan Bell made her name as a songwriter in NYC. Over the last twenty years recording seven critically acclaimed albums made in New Orleans, Eureka Springs AR and Brooklyn NYC. Her band "The Maybelles" started out in The Ozarks as a duo with Melissa Carper. 
Along the way opening for Wanda Jackson, Emmylou Harris, Steve Earle, Odetta, and Ramblin' Jack Elliott. Independent Music Award for Best Alt. Country album. Nominee Best Concept album 'Dream of the Miner's Child'. 
"Maybe growing up in Nottinghamshire is what sets Jan Bell apart from the run of local lady folkies. Or maybe its the slide guitars, harmonicas, mandolins and banjos. Dark, old timey spareness......gorgeous " - Chuck Eddy, The Village Voice
"Bell's music isn't strictly bluegrass, but her reworking of old-time country and jug-band blues is remarkably nuanced. It embodies the wide-open spirit of what has become an antic, hybrid genre." - Edd Hurt, The Nashville Scene
Beautiful blend of old timey folk and  alt. country - 4 1/2 STARS American Roots UK
The Carters, the Cashes & the Course of Country Music: 
Opening Night at International Film Center, NYC. THE WINDING STREAM Part history, part performance, part family saga.
Galapagos, Dumbo. L - R: Philippa Thompson fiddle, Tim Luntzel bass, Hilary Hawke banjo. Filmed by John Ensor Parker (Above)
Emcee and co-producer of A Musical Extravaganza to Restore Red Hook Brooklyn. 
Duets with Jolie Holland - City Winery, NYC. World Cafe, Philadelphia.
Brooklyn Arts Council September 11th Memorial Sing at Powerhouse Arena.
 Grey Fox Bluegrass Festival, ITR on the Masters Stage with Claire Lynch, and The Gibson Brothers.
Brooklyn Country Music Festival, opening for Ramblin' Jack Elliot  at The Bell House,
International Bluegrass Music Awards, IBMA Nashville - Official Artist - Roots and Branches Stage
MacDowell Colony100 year celebration in Central Park.
WINNER! Independent Music Awards for Alt. Country Album of the year